US music fans consumed twice as much rock music as pop music in 2014, according to new figures – but R&B/hip-hop was the most popular genre on streaming services like Spotify, YouTube and Rdio.
Nielsen Music data for the US market last year shows that rock music claimed 29% of total consumption on purchases of albums and titles as well as on streaming platforms.
Pop accounted for 14.9% of consumption, R&B/hip-hop 17.2% and dance music ("EDM") 3.4%.
Country music took 11.2% of the overall market, with Christian/Gospel on 3.1%, Latin music on 2.6%, Holiday/Seasonal (Christmas) on 2.6% and Classical and Jazz on 1, 4% each.
These percentages were calculated by dividing the total number of track downloads in TEA (equivalent albums of tracks) and the total number of streams in SEA (equivalent albums in streaming)* then adding the results to the album sales count.
Using this formula, overall annual music consumption fell 2% year-over-year in the United States to 476.5 million "albums" in 2014, according to Nielsen.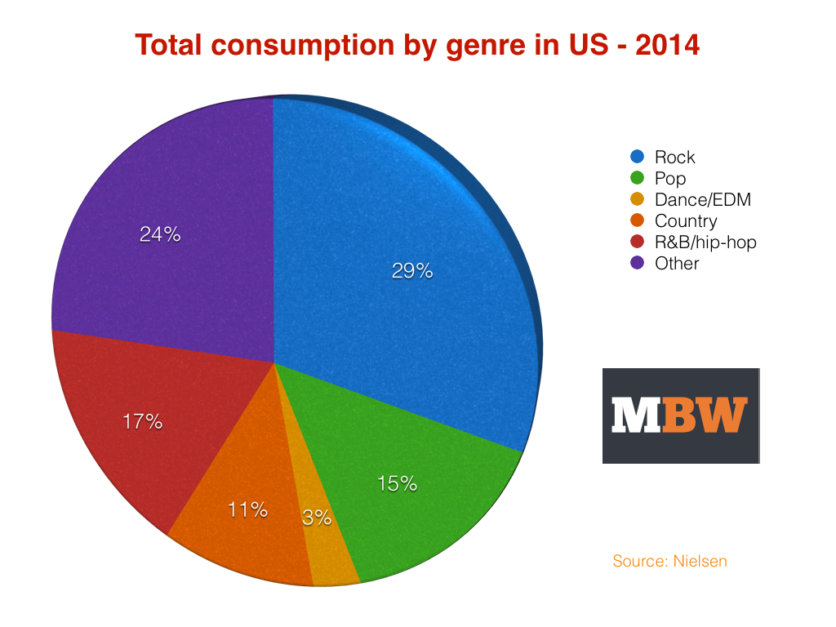 It should be pointed out that "Rock" in the eyes of Billboard/Nielsen is quite an ambitious term; in 2014, along with simpler rock 'acts' such as AC-DC, Nickelback and The Foo Fighters, it was applied to big releases like Coldplay, alt-J and Hozier as well as 900,000 Guardians Of The Galaxy soundtrack.
ALBUMS
In pure album sales In other words, rock music was extremely dominant in 2014, taking 33.2% of the market ahead of R&B/Hip-hop's 13.9%.
Pop albums, with 10.8% of all sales, accounted for only a third of Rock's sales and were surpassed even by country music, which claimed 11.8%.
Dance/EDM music was responsible for just 2% of all album sales, behind "Holiday/Seasonal" (aka Christmas albums) with 3.6% – the same share as Christian/gospel music.
Children's albums took 1.5% market share, classical 2.1%, jazz 2% and Latin music 2.4%.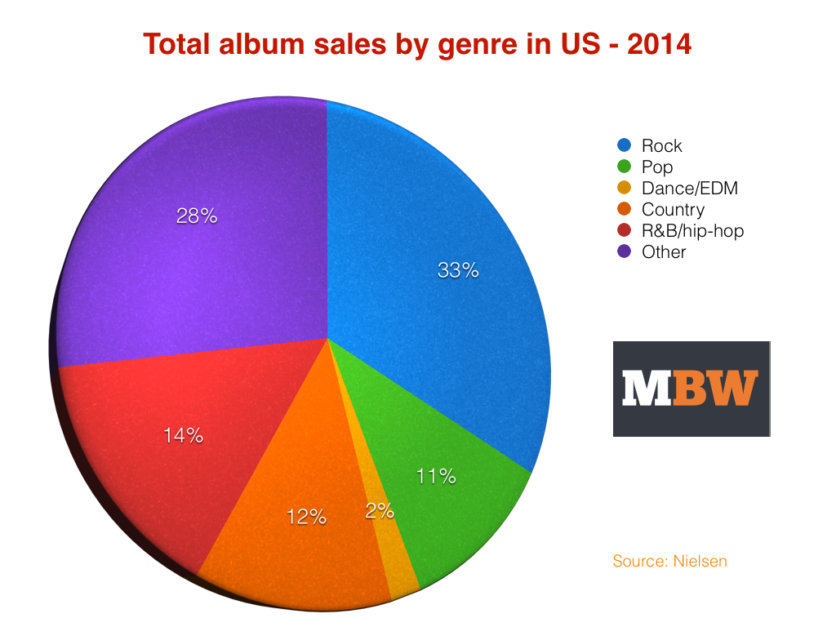 Downloads
Pop has even been overtaken by rock music in its most natural domain, the single track download.
Rock was again the No. 1 genre here in 2014, with 21.3% of sales compared to 21.2% for pop.
R&B/hip-hop came third with 19.1% of the market, while country took 12% and dance music/'EDM' 4.6%.
Christian/Gospel took 2.8% of the single title market, with Latin at 1.8%, Holiday/Seasonal (Christmas) at 0.9%, Jazz at 0.6%, Classical at 0.5% and Children at 0.3%.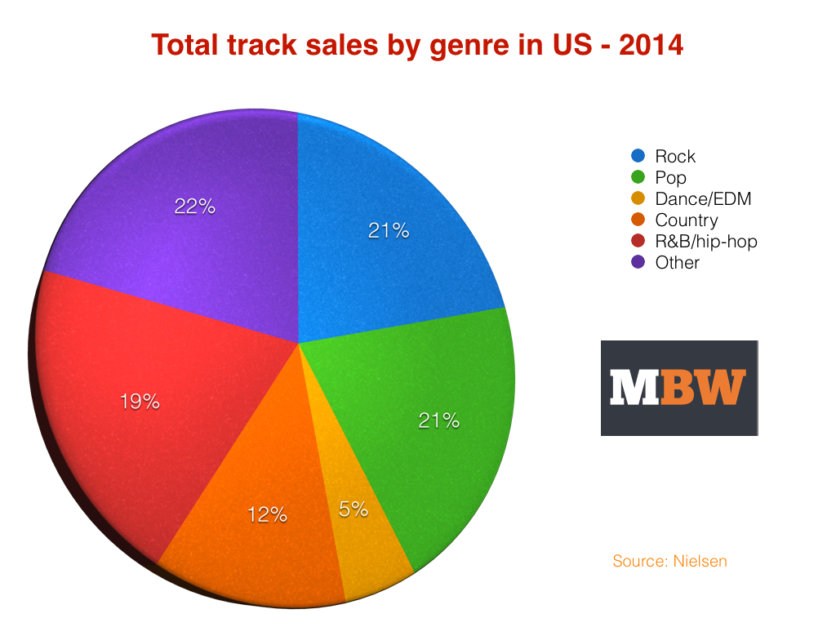 DIFFUSION
Split 2014 US music consumption by genre in terms of diffusion yields some very interesting results: R&B/hip-hop music was the dominant genre with 28.5% of all streaming consumption for the year.
Nielsen data includes streaming from AOL, Beats Music, Cricket (Muve), Google Play, Medianet, RDio, Rhapsody, Slacker, Spotify, Xbox Music and YouTube/Vevo.
Rock music was the second most popular streaming genre with 24.7% while pop claimed 21.1%. Dance music/"EDM" took a larger share than any other format, with 6.8%, while country claimed 6.4%.
Latin music performed particularly well on streaming services, absorbing 5% of total consumption, compared to 1.8% of titles and 2.4% of albums.
Christian/gospel music took 1.6% of all streams, with Holiday/Seasonal taking 1.1%. The jazz, classical and children's genres all took less than 0.5% each.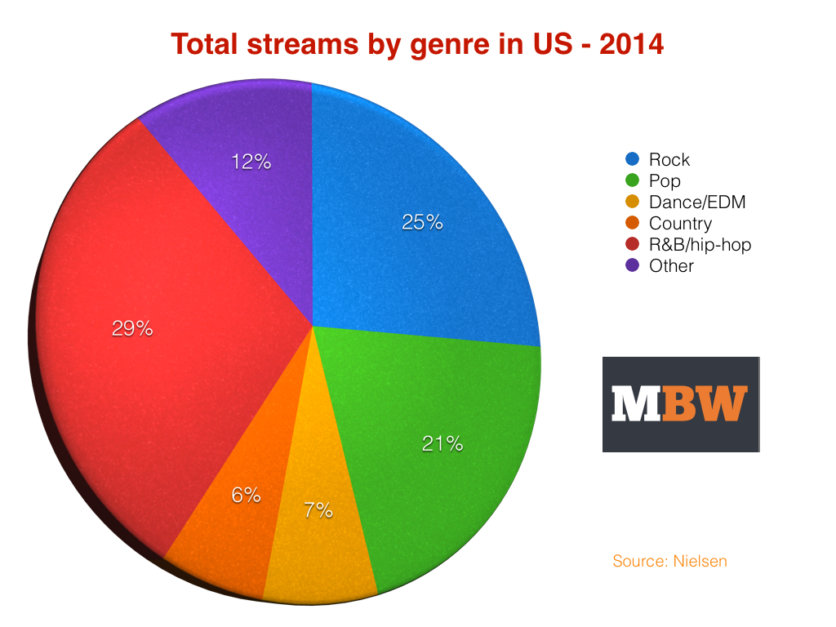 * Nielsen formula for an SEA (Streaming Equivalent Album): 1,500 streams = one album sale; for a TEA (Track Equivalent Album): 100 sales = one album.
* "Other" in the charts above refers to a combination of children's, Christian/gospel, classical, holiday/seasonal, jazz, and Latin music in addition to less popular genres.
[Pictured: the artist responsible for the biggest-selling album – and certainly the biggest selling pop album – of 2014 in the US, Taylor Swift. Her 1989 sold 3.6m copies in the year (Nielsen data)]
The music industry around the world